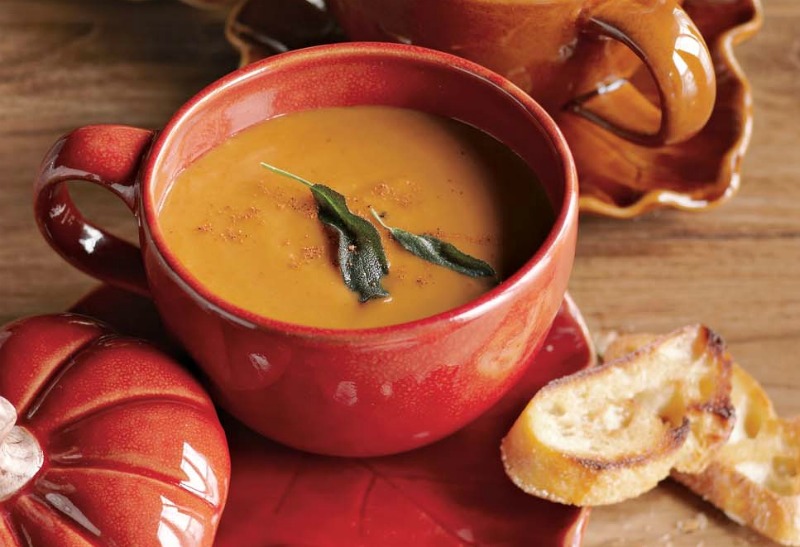 Soup is the perfect first course for an autumnal meal. Why not get inspired and master a soup this fall like butternut squash?  
Butternut squash puree makes it easy to prepare this seasonal favorite. Give it a sweet-tart flavor with a Granny Smith apple for a delightful twist.  Serve it as a light main course with a tossed salad and warm crusty bread.
You'll need
2 Tbs. unsalted butter
1 yellow onion, thinly sliced
1 jar (2 lb.) butternut squash puree
1 Granny Smith apple, peeled, cored and thinly sliced
2 cups low-sodium chicken broth
2 small bay leaves
3 tsp. kosher salt
1/2 cup crème fraîche
1/4 tsp. ground coriander (optional)
1/4 tsp. grated peeled fresh ginger (optional)
Fried sage leaves for garnish
Freshly ground pepper, to taste
Directions
In a Dutch oven or stockpot over medium heat, melt the butter. Add the onion and cook until soft but not browned, 12 to 15 minutes. Add the butternut squash puree, apple, broth, bay leaves and salt and stir to combine. Bring the mixture to a boil, then reduce the heat to medium-low. Partially cover the pot and simmer for 30 minutes.
Remove the bay leaves and discard. Add the crème fraîche. Using an immersion blender, puree the soup directly in the pot until smooth. Stir in the coriander and ginger.
Ladle the soup into warmed bowls and garnish with fried sage leaves and pepper. Serve immediately. Serves 6 to 8.