Royal Baby: Duke And Duchess Of Sussex Unveiled Their Son To The World Today
Baby joy for Prince Harry and Meghan Markle. England sprang with joy as Meghan Markle gave birth today.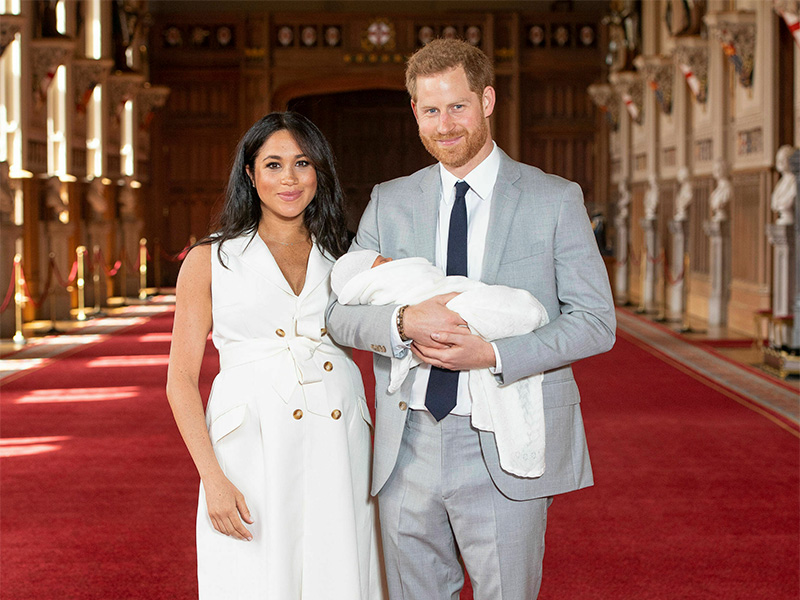 Photo credit: Dominic Lipinski/Pool via AP
https://www.instagram.com/p/BxNBHHchfUM/
https://www.instagram.com/p/BxNPb_9B0fn/
Royal fans around the world were delighted to see the Duke and Duchess of Sussex's son for the first time today.
New parents, Prince Harry and Meghan Markle gave the world a glimpse of baby Sussex in a historic photocall in St George's Hall, two days after Meghan gave birth at a London hospital on Monday morning. The baby weighed 7lbs 3oz (3.2kg).
The boy, who is seventh-in-line to the throne was lovingly cradled by his father, Harry of Windosr Castle as his loving wife stood right next to him, sweetly caressing his arm and then their baby's head as she smiled to the waiting media.
You could just tell how excited they are to be new parents.
"It's magic, it's pretty amazing. He's just been the dream so it's been a special couple of days", said the radiant new mother.
"I have the two best guys in the world so I'm happy. He has the sweetest temperament, he's really calm. He's been the dream", she added.
Asked how they are finding parenting, the duke said: "It's great. Parenting is amazing.
"It's only been two and a half days, three days, but we're just so thrilled to have our own little bundle of joy."
Fans were quick to point out how beautiful Meghan looked post-birth, in a white knee length blazer-style dress. The stunning white dress was tuxedo in style and came with tortoiseshell buttons and a tie waist which accentuated Meghan's post baby bump.
She paired her look with nude Manolo Blahnik heels and a minimalist torquoise necklace by jewelry designer, Jennifer Meyer.
Shortly after the Duke and Duchess presented their adorable baby boy to the world, they announced that they have named him Archie Harrison Mountbatten-Windsor.
Buckingham Palace confirmed that Harry was present for the birth.
Because of the rules set by King George V (the queen's father), the baby will not automatically become a prince but he could get that title if the Queen steps in. Unless she does, Harry and Meghan might otherwise want him to inherit one of Harry's titles, such as Earl of Dumbarton, or they may opt to avoid any royal titles.